Option 1:
Co-op and summer students have the option of waiting until they complete their degree program to enroll in CPA PEP and start Core 1. Learners are eligible to receive credit for up to 12 months (cumulative rather than consecutive) of experience completed prior to the date they register in CPA PEP by submitting a prior experience report. If you select this option you should apply to CPAWSB and CPA PEP as an applicant with a Canadian Degree after you have graduated or when you are in your final semester (if you are looking at starting CPA PEP soon after graduating).
Option 2:
Co-op and summer students who are following the pre-approved program path (PPR) can enroll during a work term as a candidate in the CPA Professional Education Program to begin accumulating practical experience in the Practical Experience Reporting Tool (PERT). As a CPA candidate, you will be required to maintain your registration in the program by completing annual re-enrollment and paying dues to the school each year. Dues are required even if you are not currently completing a work term. Failure to pay dues each year will result in loss of access to PERT and a mandatory withdrawal from the program which must be declared if you re-apply to PEP.  If you select this option, continue with the admission process steps outlined below.
When considering which option would be best for you, be aware that if you choose option two, your timeline to complete the program will begin the day you are admitted to CPA PEP. If you choose to enter CPA PEP over 1 year before you will be starting modules, please note that you will have a reduced amount of time to complete the education portion of the program as your experience deadline will override the deadline for education.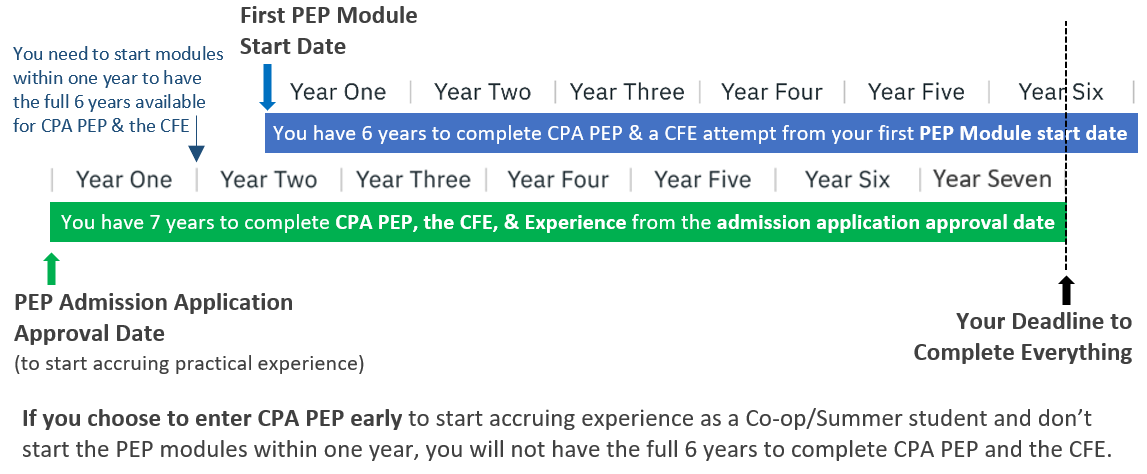 Only Canadian citizens, permanent residents of Canada, or persons who are otherwise lawfully permitted to work and study in Canada can enroll in the CPA certification program. If you are a temporary resident, you are required to hold a valid study permit to apply for admission to the CPA Professional Education Program (CPA PEP) or CPA preparatory courses and to maintain your enrollment with CPAWSB. For more details, please refer to the Residency, Study Permits and Language Advisory.
CPA education programs, including CPA preparatory courses and CPA PEP, require high English proficiency. Generally, anyone with CLB levels below 8 will need to spend additional time on their studies. For more information, please refer to the Residency, Study Permits and Language Advisory.