CPAWSB implemented the CPA Canada Plagiarism Policy in Winter 2018. With the new policy, we have revised the plagiarism review process in CPA preparatory courses and CPA PEP to align with the policy.
CPAWSB continues to review learner submissions for plagiarism using plagiarism detection software, reviewers, and other detection methods, throughout each session.
As a reminder, some of the actions that can be considered plagiarism, as stated in the CPA Canada Plagiarism Policy are:
Presenting work that has been authored in part or in whole by another person (including the words, images or data as the student/candidate's own, without reference to the original author or the original source);
Presenting work that contains any portion of the CPA solutions or feedback guides;
Sharing CPA program files with others (see training contract and website)
If plagiarized content is suspected in a learner's submission, the learner will not be contacted until after the scheduled exam period.
Waiting until after the exam period:
Avoids unnecessary stress or impacting the learner's exam performance in cases when a review determines no further action is required.
Allows the learner to complete the session or semester in progress. If an investigation were to take place during the session or semester, and the plagiarism decision is overturned on appeal, the learner would not be able to continue in the same session/semester, delaying their progress (this would be particularly disruptive for CPA PEP candidates in years with only one CFE offering).
If it is determined that there was an act of plagiarism, there are various consequences related to the type and severity of the action, including new consequences recently introduced, as shown below: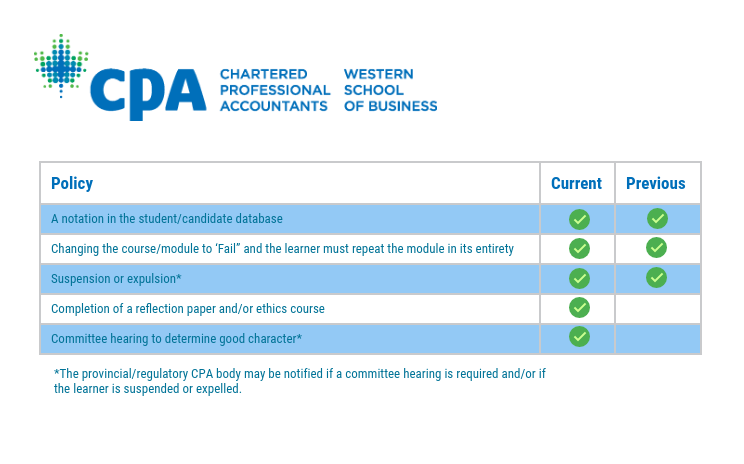 Learners can learn more by visiting Plagiarism FAQs on the CPAWSB website.