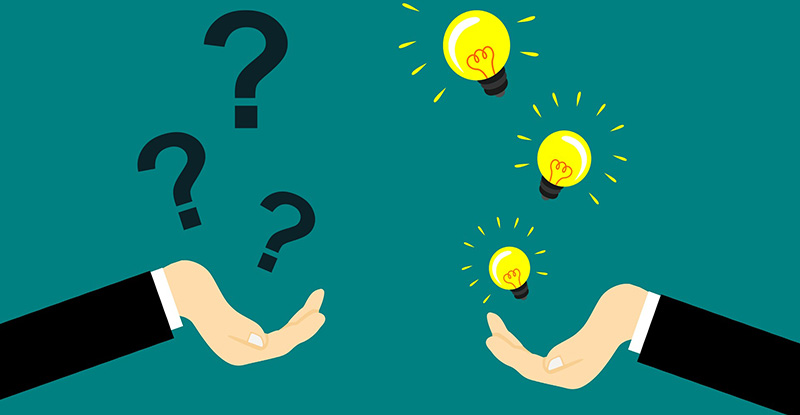 In this "Ask an Advisor" series, we answer questions regularly received by the different teams responsible for CPA preparatory course administration.
Dear Advisor,
I submitted my admission application and I want to register in a non-core course. How can I register in a course and when will I receive access to my materials?
Sincerely,
A 2019 Semester 4 New Student
Dear 2019 Semester 4 New Student,
Your admission application will be processed within two business days. After your admission application has been approved, you will be able to enroll in courses with the CPA Western School of Business. You will receive an email confirming the status of your admission application.
CPA preparatory courses are self-study and are comprised of a variety of online learning materials, including:
student notes
practice problems
quizzes
Pearson MyLab access (a collection of online homework, tutorial, and assessment products)
Depending on when you register for non-core courses, you can have up to 12 weeks to complete your self-study course materials.
You can expect to spend from five to ten hours per week on the non-core courses, depending on your prior accounting knowledge.
If you are less familiar with accounting concepts, you could spend upwards of 15 hours or more.
After your enrollment has been approved, the next time you log into My CPA Portal, the menu options will expand to include four new sections:
REGISTRATIONS
PROGRAM MANAGEMENT
PROGRAM REQUESTS
PRACTICAL EXPERIENCE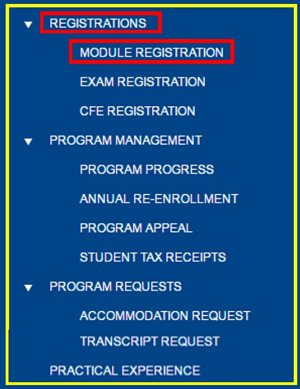 To register in a course, select REGISTRATIONS from the menu and then select MODULE REGISTRATION.
You will see a summary of your program enrollment and your module registration history.
To register for a new course/module click on the orange "+ ADD MODULE REGISTRATION" button. Next, use the pull-down menu to select the Academic Session. The courses available for the session will appear. The ones you are eligible to enroll in will appear with a checkbox and will display an Eligible to Register in the My Status column.
After selecting your preferred course, click on the NEXT button. Information about the start date and exam date will appear; select your preferred exam location. Your final step to register in your course is to make your payment.
You will receive access to your course materials through the online learning portal within five business days. Non-core preparatory courses have e-textbooks available through Brightspace (D2L); you will be provided with information on accessing the Bookshelf on electronic devices.
Welcome to CPA preparatory courses and have a great semester!
Sincerely,
CPA preparatory Admissions Services
Contacting the Advising Team
The Advising Team is here to assist you while you are enrolled in preparatory courses and can be reached by email at prepadvising@cpawsb.ca.
When sending an email, include your name and student ID, along with a description of your situation or the question you are asking. You should expect to hear from the team one-to-two business days after they receive your message.