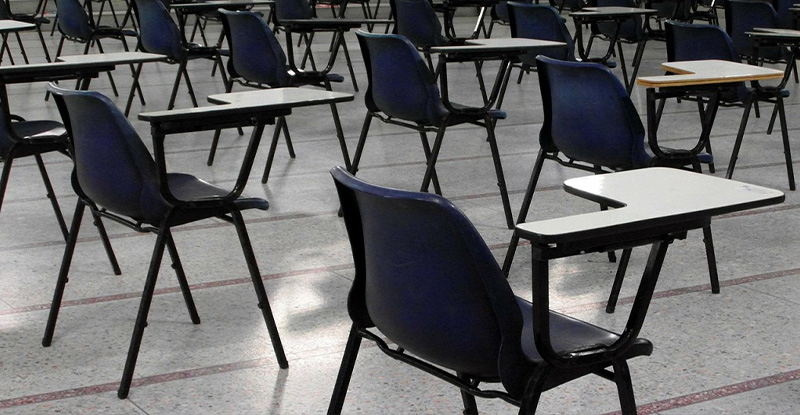 Exams can be daunting enough on their own without worries of "What do I wear?" and "What should I bring?" rattling around in your head and creating more stress. Therefore, we have compiled an exam-day walk through to provide you with information you need so you can focus on your studies and your exam. For information on overcoming exam anxiety or preparing for an exam, check out our previous blog posts.
Before the Exam:
Before the exam, carefully review the Exam Regulations and Exam Rules video posted to the home page of D2L.
You selected an exam city when you registered for your course or module. To check which city you are registered in, please login to the My CPA portal -> click on Registrations ->Exam Registrations -> View your exam offerings for the desired semester.
Specific exam canter locations will be released approximately two weeks before the exam: CPA PEP locations will be posted on the CPAWSB website and CPA preparatory course exam locations will be posted on D2L. Please carefully review the documents for your exam location and start time as they may differ from day-to-day. You must attend the exam centre you registered for.
If you need an exam accommodation, submit your request via My CPA Portal at least 10 weeks before the exam date to allow time for sufficient review. Exam accommodations may be granted to exam writers who:
Need to bring medical items into the writing centre or need extra time for documented medical reasons
Wear a religious head covering
Require restricted items at the writing centre
Require an alternate exam location due to living more than 150 km from the nearest writing centre
What to Bring:
Students writing CPA preparatory course exams must bring their own Texas Instrument BA II Plus calculators to the exam. CPAWSB does not provide calculators and no other models, including the Texas Instrument BA II Professional, are permitted. Candidates writing CPA PEP exams will be provided with an approved calculator. It's a good idea to become familiar with the calculator during your studies to avoid having to figure it out at the exam.
Items such as bags, notebooks, hats, mechanical pencils, weapons, or large jewelry must be left outside of the examination room.
You may bring keys, wallet, pencils, prescription glasses, drinks or food in a clear container, and a back-up computer to your seat with you. The items you will need for the exam must be placed in a single clear bag no larger than 26.8 cm x 27.3 cm in size. A back-up computer, pre-loaded with Securexam, and your keys and wallet, in a clear bag, must be placed beneath your chair.
The full exam regulations for CPA preparatory course and CPA PEP specify what you can and cannot bring into the exam room, so read them closely.
When to Arrive:
Exam registration begins one hour before the scheduled exam start time and exam announcements will begin approximately 45 minutes before the start of the exam. Plan to arrive at least one hour early to allow enough time to sign in and set up your laptop.
Be prepared to come early and stay late. When paying for parking, pay for longer than you expect to be in the exam center to ensure you do not get fined or towed.
Latecomers will be admitted up to 60 minutes after the exam start time but will not receive additional time to write the exam.
At the Exam Center:
CPA exams take place in various locations across the western provinces. Each writing centre will be large enough to accommodate the registered number of exam writers in that area and there may be people writing different exams in the same room.
You will be required to present one form of valid, government-issued photo identification bearing your signature before entering the examination room. If your ID appears to be damaged or altered in any way, you might not be allowed to sit the examination and will forfeit the examination fee. Examples of acceptable identity documentation include:
passport
driver's license
health card with photo and signature
Before you enter the examination room and within the room, invigilators will conduct an unobtrusive visual inspection of personal items.
You will be required to store all personal belongings, such as coats, bags, purses, cell phones, either outside the examination room or on the side of the walls in the examination room. Depending on the venue, a coat check or another room with no supervision might be available for storage.
You will be assigned a seat for the exam.
During the Exam:
The examination will begin when the presiding officer announces the exam has started. The presiding officer will indicate when 10 minutes of writing time remains.
If you need to visit the washroom, raise your hand and the invigilator will escort you.
Invigilators will circulate during the exam to ensure exam writers are following exam rules.
After the Exam:
If you finish writing the exam between the final 60 and 30 minutes of the exam, students in CPA preparatory courses may be permitted to leave early, those in CPA PEP must remain until the end. You will be required to turn in your exam materials, instructions, and USB keys in their Ziploc bags, and for CPA PEP exams, the calculator you were provided with.
After the exam, within three hours, you will need to upload your response file saved by Securexam on your computer to the Software Secure website (instructions for this process can be found on D2L). Failure to upload your completed exam on time will result in a $200 penalty.
If you have any questions regarding CPA preparatory course examinations, please email prepexams@cpawsb.ca. For questions regarding CPA PEP examinations, please email cpamodule@cpawsb.ca .