Legal Name Verification
All applicants must provide proof of their full legal name upon application to CPA PEP as specified by Provincial statutes and CPA PEP Harmonised Education Policies (HEP) Section 1.5 . To satisfy the conditions, you are required to upload a copy of a government-issued primary identification which includes your full legal name. 
If you are a Canadian citizen, your legal name is the name identified on your birth certification or, if different from your birth certificate, your current legal name due to marriage, divorce, or official name change.
If you are not a Canadian citizen, your legal name is the name identified on your passport and/or immigration documents.
You are required to you use your legal name when you create your My CPA Profile. If you have a preferred name that you like to use for correspondence, please enter that name in the optional Preferred Name field. Your preferred name will only be used for informal communications such as emails. All official documents, such as status letters or CPA transcripts, will use your legal name.
Admission to CPA PEP
Starting November 27, 2021, all CPA PEP applicants will be required to provide a high-quality copy of one of the following identification documents as part of the admission process:
Canadian driver's license
Canadian birth certificate
Passport, any nationality
Both sides of a Canadian Citizenship Certificate or Card
Both sides of a Permanent Resident Card
Record of landing (landing paper)
Nexus identification card
Upload the required document to My CPA portal. (See screenshot below) Only jpeg, pdf, or png files smaller than 5MB will be accepted.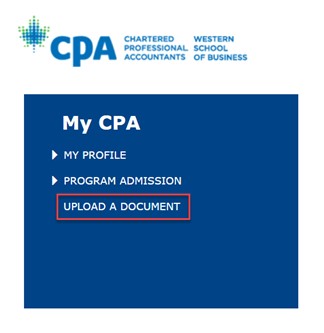 IMPORTANT: CPA PEP applications will be held for one week after they are submitted. If you haven't uploaded the necessary documentation  within one week, the application will be cancelled and a full refund will be issued. Please wait until you have the necessary document ready to upload before resubmitting your application.