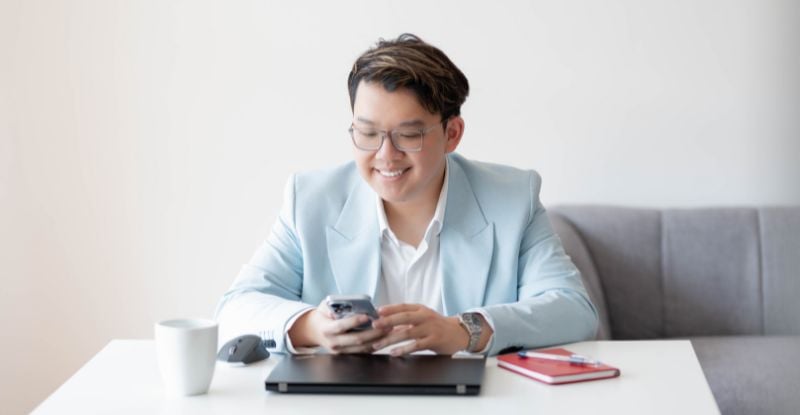 Photo credit: Reanna Khan
We present Exemplary New Professional Award to a single recent CPAWSB graduate in one of the four western provinces or three territories. This award is generously sponsored by KBH Chartered Professional Accountants of Edmonton, who have graciously contributed to the CPA Education Foundation of Alberta.

In 2022, we are proud and honoured to award Calvin Loi, CPA. Watch the video and follow along by reading the transcript to learn about Calvin's journey!
---
This is a transcript of the interview taken with
Calvin Loi, CPA
in June 2023.

Introduction
It is certainly a tremendous honor to be recognized for the 2022 Exemplary New Professional Award. It is still surreal to just think about how, given the many new professionals from Western Canada who have entered the profession, I am the recipient of this prestigious award. This award truly symbolizes what it means to be a CPA: professionalism, demonstrated integrity, sound judgment, and commitment to the profession and the community.
Receiving this award provides me with confirmation of my abilities as a CPA, and I look forward to demonstrating these qualities throughout my career.
I knew from a young age that I liked math, so for much of my childhood, I wanted to be a math teacher. There's certainly a part of me that still loves teaching, so who knows? Maybe at some point in my career, I'll teach accounting. My high school was fortunate enough to offer introductory accounting courses, which I took and instantly fell in love with. From there, it was a natural progression for me to obtain my bachelor's Commerce honors degree in accounting and then pursue the CPA designation.

Calvin's CPA journey
Trying to find the balance between work, school, and personal life can indeed be extremely challenging and demanding. In fact, I can recall a time when I didn't have to balance all those things: work, academics, personal life, and my community involvement. Personally, I always adopted the motto 'Enjoy the grind.' I remember how lucky I am to have these opportunities and try to embrace every experience.
However, trying your best to determine priorities and set boundaries for yourself is also essential. And of course, there's certainly nothing that a well-organized agenda can't help with.

Qualities of a successful CPA
I think that the defining quality of a successful CPA is the ability to expand your comfort zone. The world is changing daily, and so are the responsibilities that CPAs are tasked with.

The ability to be comfortable learning new things, challenging the norm, and straying from the regular routine will become crucial. And if there's one thing that the pandemic has taught us, it's that adaptability and flexibility are of utmost importance. In my opinion, another defining quality of a successful CPA is giving back to the profession. The profession has given me so much, and I believe we should all give back to the communities we serve in a way that's meaningful to us. This might be volunteering on a finance and audit committee of a not-for-profit organization or mentoring a CPA candidate. Whatever it is, as CPAs, we possess a strong technical financial background that I believe is useful and valuable to many others.

Work experience after CPA designation
Since obtaining my CPA designation, I have been promoted and moved from a taxation role to a finance reporting role. I have become a formal leader and expanded my knowledge in the workplace. Outside of work, I've been able to serve on the CPA Manitoba Foundation Board of Directors and use the skills I acquired in my CPA studies to serve on not-for-profit finance and audit committees.

The CPA designation has equipped me with the tools needed to truly apply and take a holistic, well-rounded approach in my day-to-day work.

Life outside of work
Outside of my professional pursuits and community involvement, I volunteer my time with not-for-profit organizations that support education and the arts and culture scene. As someone who has received a tremendous amount of financial support and mentorship in the pursuit of my own academics, I am more committed than ever to supporting the reduction of financial barriers for inner Winnipeg youths, specifically accessing post-secondary education. I also volunteer my time with organizations that aim to celebrate and promote cultural diversity and understanding. In my free time, I enjoy assembling Lego sets and watching hockey, curling, and tennis. I know there are a lot of hockey teams out there in western Canada, but as a Winnipegger, I am certainly biased toward the Winnipeg Jets.

Piece of advice
If I could offer one piece of advice to candidates in the CPA program, it's to find a routine that works for you. During my journey in the CPA program, I quickly learned that everyone has their individual path to becoming a CPA. Some jump right into pursuing the CPA designation after university, while others might pursue it while raising a family. Create a plan that works best for your situation but understand that there will be hiccups along the way, and when those obstacles arise, being adaptable is key to success.
The road to the CPA designation can be long and challenging, but in the end, it's also very rewarding. So, remember to be kind to yourself and do things that you love.