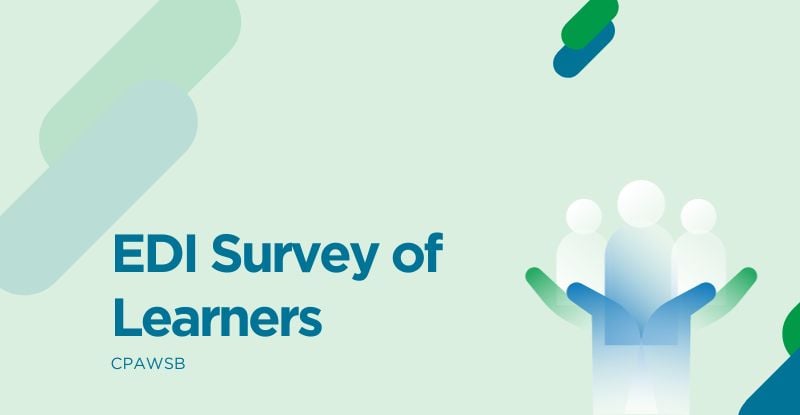 In a strategic move toward enhancing Equity, Diversity, and Inclusion (EDI), we at the School have partnered with Prairie Research Associates (PRA) to conduct a survey among our learners. This survey was designed to delve deeper into the diverse backgrounds and experiences of learners, with the goal of fostering a more inclusive learning environment.

PRA: The Partner
Leveraging over 30 years of research experience spanning government, non-profit organizations, the private sector, and post-secondary institutions, PRA was selected to ensure the reliability and impartiality of this initiative.

Survey Implementation
Our CEO emailed invitations to all active learners in CPA preparatory courses and CPA PEP, to participate in this voluntary survey. PRA managed the distribution of survey links, emphasizing confidentiality and anonymity. The data collection phase, conducted through PRA's secure online platform, commenced on June 14 and concluded on July 9, 2023. Importantly, only aggregate data was shared with CPAWSB, guaranteeing the privacy of individual responses.

Recognizing Potential Limitations
Like most surveys, there was a risk of self-selection bias due to its voluntary nature. Nevertheless, the 20.70% response rate, with a margin of error of +/-1.6%, reflects the input of 3,127 CPAWSB learners.

Charting the Path Forward
The survey results will guide our staff, leaders, and partners as they work toward prioritizing strategies, goals, and actions in line with the organization's Statement of Commitment. We are committed to ensuring that the principles of equity, diversity, and inclusion are firmly embedded across all our goals and endeavors.
Learn more about this
survey and the diversity of CPAWSB learners
.