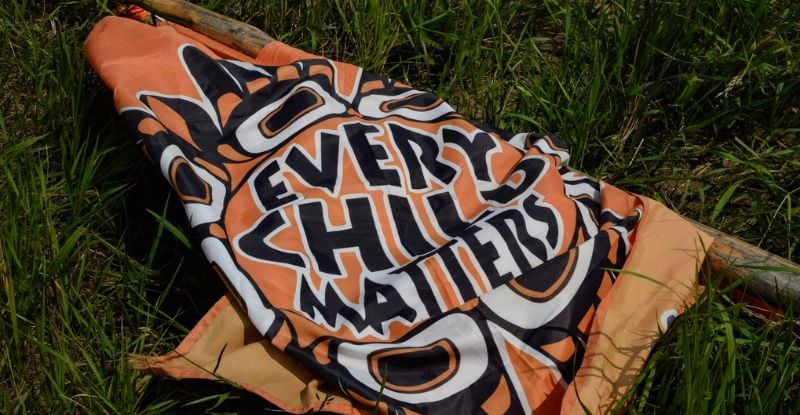 Photo credit: This photo was taken at an Indigenous Retreat organized by CPAWSB. Photographer: Melissa Fabrizio.
From understanding national calls to action to enrolling in free courses, here are some of the ways you can reflect on the day to honour Indigenous survivors of residential schools.
---

As part of the Government of Canada's ongoing commitment to reconciliation with Indigenous Peoples, September 30 is now a federal statutory holiday. This date was chosen because it was when Indigenous children were taken from their families and forced to attend residential schools. National Day of Truth and Reconciliation is a time to acknowledge the mass devastation to Indigenous Communities. Since colonization and the opening of residential schools in the 1870s, Indigenous communities have been and continue to be impacted daily, far beyond the closure of the last school in the mid-1990s.

Throughout the day, you may notice people wearing orange shirts, gathering, and sharing the Truth and Reconciliation Commission's calls to action on social media. CPA Western School of Business would like to provide those of us who are settlers on the land currently referred to as Canada with an opportunity to close the gap between our stated values and actions. For settlers, this is a day to reflect, learn, unlearn, and actively work toward reconciliation.

Here are some ways you can learn to live in solidarity with Indigenous Peoples today and every day.
Look up #MMIWG2S (murdered and missing Indigenous women, girls, and Two-Spirit people). Indigenous women, girls, and Two-Spirit people are more likely to experience sexual violence than women of any other demographic.
Have a conversation with a friend and acknowledge the complicated feelings around how many of us benefit from the colonial structures in Canada and its resulting opportunities.
Learn about the lands you are on and the history and cultures of the people of that land.
Enroll in an Indigenous history course.
Indigenous history course
CPA Canada offers an
Introduction to Indigenous Peoples' cultures
(one hour of free CPD for CPAs) to help frame Indigenous issues within the context of the Canadian accounting profession. This course examines the continued effect of colonialism on Indigenous communities and economies while explaining the historical milestones that led to the current state of Indigenous affairs.
The CPA Canada course is intended to address a need for more Indigenous voices in the profession and help current CPAs understand the perspectives of Indigenous CPA students.
For a more in-depth study,
Indigenous Canada
is a 12-lesson online course offered by the
Faculty of Native Studies
at the University of Alberta. The course is facilitated by an all-Indigenous teaching team and explores the histories and perspectives of Indigenous peoples living in Canada while providing further insight and analysis into national Indigenous-settler relations. The course is currently open for registration and can be taken for free by selecting the audit option during enrollment.
Only together can we build a better world and a better accounting and finance profession.