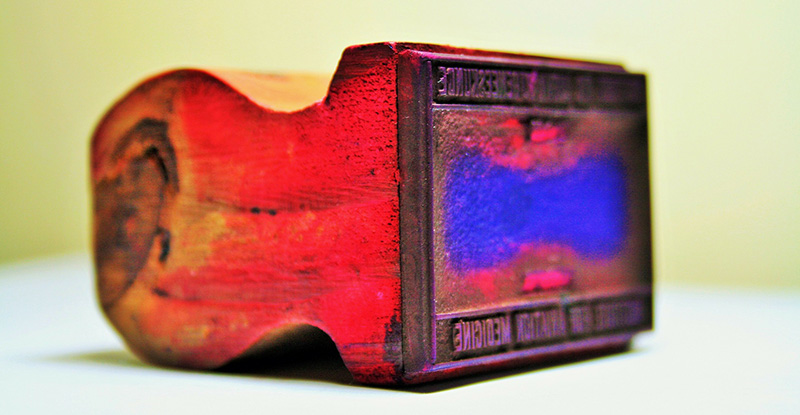 After you create a My CPA profile, submitting a transcript assessment request is one of the first steps you take towards starting CPA certification. Below we outline how to get started and address some common questions.
Creating a profile in My CPA portal
My CPA portal is your administrative hub while in the CPA certification program. Ultimately, you will register for courses or modules, pay annual dues, and more via My CPA portal, but initially, it is how you tell us about your education and employment history so we can assess your eligibility to enter the School.
You can create your profile on the My CPA Portal at my.cpawsb.ca.
After the login screen loads (shown below), click on "Create a My CPA Profile" to load the registration page.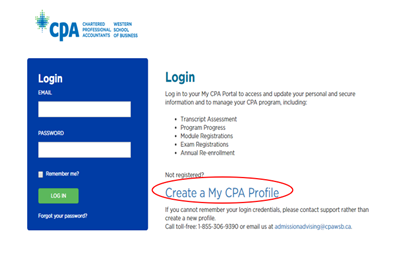 On the registration page, you will provide details regarding your personal information, employment history, and post-secondary education. You will also be asked about your Canadian residency status and also need to identify which provincial body you intend to apply to for program admission (where you plan to take CPA courses or modules). If your information changes or needs to be updated, log into your profile at any time and update it by selecting the appropriate section under the "MY PROFILE" heading.
You will also be asked to provide contact information. CPAWSB staff typically use the email address you list as "primary" in your My CPA profile to contact you about your transcript assessment, admission application, or your CPA studies.
Finally, confirm all your information and your profile is created.
You should receive two emails within an hour of setting up your profile. One will come jointly from CPAWSB and the provincial CPA body with which you are registering. It will outline your next steps and provide information about who you to contact for assistance. The second email contains a link to set up a password for your My CPA Profile. Your profile will be inactive until you create the password.
Requesting a transcript assessment and submitting documents
Now you can request and pay for a transcript assessment by following the instructions under the "TRANSCRIPT ASSESMENT" tab.
CPAWSB uses the transcript assessment to verify whether you are eligible to enroll directly in the CPA Professional Education Program or if you need to complete any prerequisite education first. To do this, we need original, official transcripts from each post-secondary institution listed in your My CPA profile. Contact each post-secondary institution listed in your education history and ask to have official transcripts sent directly to CPAWSB. Any documents not received directly from the post-secondary institution will be considered "unofficial".
Within My CPA portal, a checklist indicates the documents you need to submit for your transcript assessment, based on the information you provided in your education history. Your checklist will be updated and you will receive an email for each document we receive and an email when we have received all documents and can start the assessment.
When to request a transcript assessment
Domestic transcript assessments take approximately ten days after CPAWSB receives all your required documents, though during module registration periods we may need a little extra time, so if you plan to register in a module, submit your transcript assessment request as early as you can to avoid delays. Your transcript assessment is valid for one year.
Using the portal
In addition to accessing your document checklist through the portal, you can also update your personal information, view the transcript assessment results, and let us know if you complete additional education.
Contacting the School
At any time, you can contact the School by emailing transcriptassessment@cpawsb.ca for inquiries not covered in the FAQs, or to discuss assessment results later on.