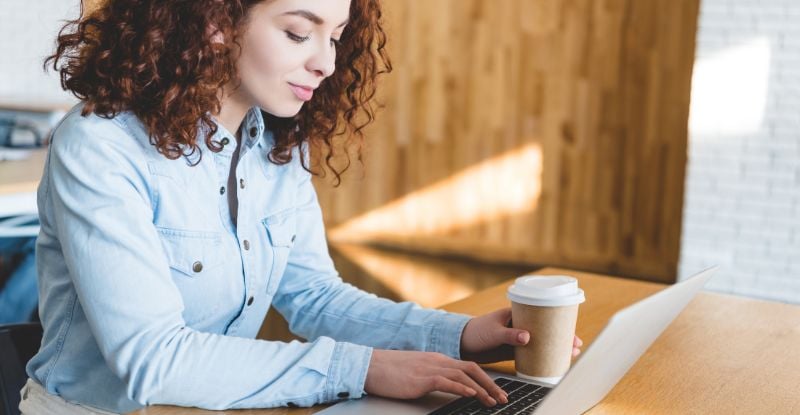 Photo credit: AllaSerebrina/Depositphotos.com
Getting your exam results and not being able to interpret them can be stressful. This blog post highlights what items you need to be aware of to help you better interpret your CPA PEP transcript.
On the
module results release date
, log in to
My CPA portal
to view your overall exam results. A copy of your exam results transcript can be accessed through the
CPA Canada National Candidate Portal
.
The transcript will provide an outline of your overall result, including your performance results on the:
objective format questions and
case portion of the examination
The Overall Result on the transcript will tell you whether you have successfully passed the exam. The module exam passing profile is based on a summary of what you get on your performance results, which are pre-established expectations set by the Board of Examiners.
You will receive one of the following four scores for your Overall Result Rating:
Pass with Distinction: Identifies the top performing group that wrote that specific examination.
Pass: Identifies the group that met the standards required based on a combination of the Objective Format Questions and the Case portions.
Marginal Pass: Identifies the group that met the standards but just barely.
Fail: Identifies the group that did not meet the standards set by the Board.
You successfully passed the module if you receive one of the three pass ratings on your overall results. If you received a "Fail" rating, you failed to pass the examination and module.
The following figure is a sample
Module transcript
available when you log into your CPA Canada National Candidate Portal. The figure provides helpful explanations of the different components of the transcript.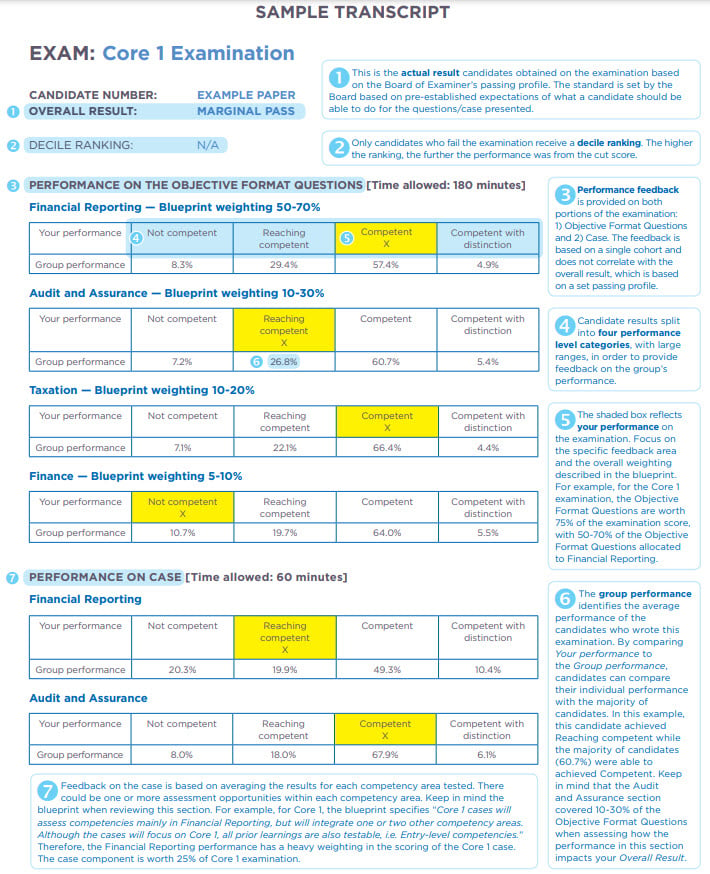 Figure:
CPA PEP Module Examination FAQ, page 7 (CPA Canada)
If you receive a
"Fail"
rating, then you will obtain a decile ranking. A high decile ranking means you were further away from getting a passing profile. However, the
Fail
category does not identify a marginal fail. Therefore, when looking at transcripts, it is sometimes difficult to see the difference between a marginal pass and a
marginal fail
transcript.
If you fail or receive a marginal pass, look at the areas where you performed poorly (objective format, case portion, or specific competency areas). Try to improve those areas for future examinations.
Candidates must obtain a minimum overall grade to be eligible to write the examination (in addition to attending the workshops). However, only the module examination result determines whether a candidate passes a core or elective module.
---
For more frequently asked questions on the CPA PEP Module Examination, please access the "CPA PEP Module Examination FAQ" document on the CPA Canada website. Specifically, read the section titled Examination Results, it provides additional information on how you can interpret your module examination results.